Business intelligence solutions for telecom are an easy way to sift through the huge amount of data they collect every month to gain actionable insights. With Panoramas Necto Telecom, that solution has arrived.
Analyse how and when your customers use their mobile phones. Update your network equipment to function more efficiently, thanks to the insights you gain through Necto Telecoms capabilities. Necto Telecom is shaping the future of the industry.
Gain an advantage over your competitors with Panoramas signature solution for telecommunication companies. With this tool, youll be able to improve your networks performance, deliver fabulous service and minimize costs on overhead while boosting your profit. With improved service, your customers will refer their friends, growing your revenue all the more.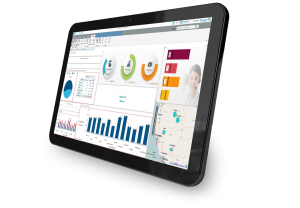 Unified Data Analysis
Drive your corporate decisions with properly analysed data from all your departmentsall across the board. Necto Telecom unifies your data to give you a 360-degree view of how your company performs in every area of your business. With its eye-catching, easy-to-understand dashboards, youll be able to see areas you can improve in a single glance.
Collaboration Made Easy
With this tool, users can collaborate with each other more easily. Necto Telecoms comment feature allows each user to contribute to the conversation, driving decisions through their added insights. Governed data permissions allow each department to share their perspective on the analysis.
Centralized Analytics
Since Necto Telecom is a centralized business intelligence solution, it allows users to analyse data from various departments in the telecom enterprise. It updates data for all users, so everyone is up to date with any movement in the data that indicates the need for change. Its powerful centralized intelligence allows your company to meet future customer needs proactively, keeping it well ahead of its competitors.
Insightful Analysis
Necto Telecom can provide a treasure trove of information about how your companys subscribers use their service. Analyse their habits to deliver better service and keep them as customers. With these insights, you can target specific segments of your customer base to offer services you already know theyll love, thanks to your state-of-the-art data analysis.
Secure and Scalable Business Intelligence
With Necto Telecoms IT centralization that covers all the departments in your telecom company, you have only one system to deal with. Not only does it make it easier to scale up as your company grows, but it also increases securitya huge advantage in todays world, where data breaches have impacted companies the world over.
Identify and Act on Opportunities
With the insights from Necto Telecom, you can identify customers who are ripe for an upsell. Discover who needs complementary services to cross-sell them to your current customers. Without the power of Necto Telecoms transformative business intelligence, you may lose these extra sales to your competitors.
Combine Data and Automate Your Analysis
With Necto Telecom, you can combine all your companys data no matter which department it comes from. Its automated analytics allows you to learn all you need to know within a shorter time than ever before. A Business Intelligence Solution That Unveils Insights
Because Necto Telecom uses customizable infographics, users can better understand the data, view it within its own context, and use it to discover solutions to even the most pressing challenges. As they scroll through the charts and graphs, they can remove some of the items to better locate and fix the problems.
Take Your Data to the Next Level with Necto Telecom
With Necto Telecoms centralized architecture and cutting-edge analytics, your telecom company can analyse data for extraordinary value that will help your business grow. It unveils insights that might remain hidden with your current business intelligence analytics. It personalizes reports and provides recommendations that you can act on to take your business to the next level.
To discover more about the advantages of Necto Telecom for your telecom business, contact the team of telecom analytics experts at Necto Telecom today.